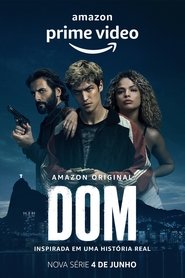 DOM Season 1 Episode 4
Pedro becomes annoyed at Lico's constant blunders during their robberies. In 1995, at age 14, Pedro and Lico started doing cocaine. They carried out their first burglaries to support their addiction. In the 1970s, young Victor is pressured into snorting coke for the first time. He questions his own actions as an undercover agent and considers walking away from the mission.
Serie: DOM
Guest Star: André Mattos, Digão Ribeiro, Fábio Lago, Filipe Bragança, Flávio Tolezani, Gabriel Leone, Isabella Santoni, Julia Konrad, Laila Garin, Mariana Cerrone, Ramon Francisco, Raquel Villar, Roberto Birindelli, Wilson Rabelo
Episode Title: WHOSE FAULT IS IT?
Air Date: 2021-06-04
Year: 2021